Frequently Asked Questions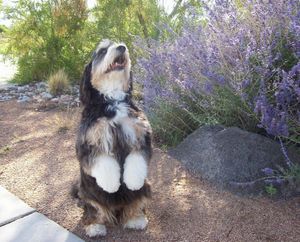 Why Should I use K9 Scoopers Plus?
Albuquerque City Code §9-2-2-2-B-1 states: "Cleanliness. Feces...must be removed at least weekly to prevent odors and possible dangerous or toxic exposure or contamination by fecal material..."

Besides being unsightly and smelly dog feces can pose a serious health hazard which carries a number of common parasites and harmful bacteria. This can be tracked into the home or car and can wash into streets, storm drains and even the river. Children and pregnant women may be especially vulnerable.

Picking up dog waste is a chore that most people find unappealing and time-consuming. K9 Scoopers Plus will remove this waste on a regular, consistent basis in a very non-intrusive way.
Can my dog(s) be in the yard when you come?
As long as they're not overly aggressive, by all means feel free to leave them out. We enjoy their company.
Do I need to be home when you come?
Not at all. We come, we clean and we leave without need of anyone being there.
What type of access is expected into the yard?
Since we do not go through the home, a gate into the yard is necessary. Also, the gate must be in good condition as K9 Scoopers Plus cannot be responsible for barricaded entries.
What about gate locks and gated communities?
For gated communities, we will need a code to get into the subdivision gate. As for locks on your gate, we will either need you to unlock it on the morning of your service day or let us have the combination code or a copy of the key. Any keys we have are coded so that only we know which locks they go to and they are kept in a secure place when not in use.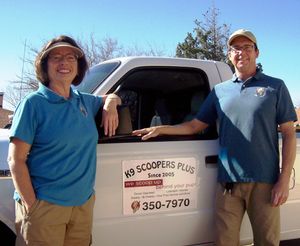 Who will be coming onto my property?
We are a husband and wife owner operated company. Therefore, you have the assurance that we are the only ones representing K9 Scoopers Plus that would be on your property. We both try to meet our clients on the initial service so that you and your K9's are familiar with us. If that is not possible, we can leave our pictures for you so you know who we are. We wear our logo embroidered on our shirts for easy identification. Our trucks also have signs on them.
Do you service yards year round?
Oh yes. Your K9's go year round, so we scoop year round.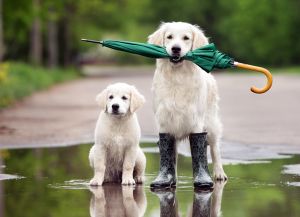 Do you work in inclement weather?
Yes. We are prepared for all kinds of New Mexico weather and do our best to service yards rain, snow or shine. Even in the snowy season scooping needs to be done to avoid excess accumulation. In the event of a fresh snow the night before or on your scheduled service day we may postpone your service a day or two. In that case we would call or text to inform you of the schedule change.
What if a holiday falls on my scheduled service day?
If there is a need to move your service day ahead or behind a holiday we will leave a notice for you on your service day prior to the holiday week.
Can service be temporarily stopped while I am on vacation?
Sure. If you are going to take the dogs with you or have them kenneled while on vacation we can suspend your service until you return. Just notify us before your service day. However, if the dogs are remaining behind you will probably want service to continue.
Do I have to sign a contract?
No. K9 Scoopers Plus does not use contracts except on some commercial accounts when requested by the client. We do an honest and reliable job and have found that our clients treat us honestly as well. Our service is billed monthly in advance and can be cancelled or suspended at any time as long as we are notified before your next scheduled service day. However, if service is suspended for a time and restarted there may be an additional startup fee to dispose of the excess accumulation.
What type of payments do you accept?
Currently we accept cash or checks (only good ones!).

For their convenience, and to keep their financial information private, many of our clients remit payment through their own bank's on-line bill-pay system. Some clients prefer to pay 2 to 6 months in advance. For clients that want to set up an automatic monthly payment on their bill-pay system, we can average out our fees so that they're the same each month.